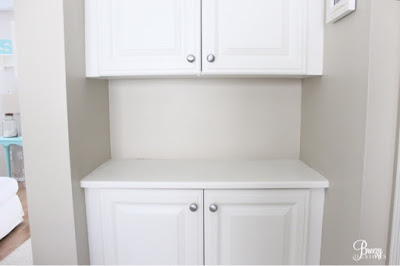 Happy Thursday! It's almost the weekend! Yay!
Today I'm sharing with you a project that my hubby and I tackled last weekend! I'm always looking around my home and dreaming up new projects to start. Hehe! Being an Interior Designer my wheels are always turning! We have a couple niches in our kitchen and upstairs linen closet. I decided to add beadboard to the back of those niches for an added color and texture pop! We started by going to our local Lowes Home Improvement and picked out a piece of beadboard. We had it cut down to fit the wall space in each niche.
I then painted the beadboard. I used the paint color Aqueduct by Sherwin Williams for the upstairs niche.
I absolutely loved the way it turned out!
It was that added pop of color and texture that space needed.
It matches my Mermaids book perfectly!
I then did the same process downstairs in our kitchen.
I used the paint color Gentle Wave by Valspar for the beadboard color.
After painting the beadboard, I wanted to change up the shelving a little and added white plates, milk glass and milk bottles. I love how the white looked against the aqua.
I then decided to organize my Ikea Kitchen Cart!
I love how it's a perfect spot to display some of my favorite kitchen goodies!
Just what that spot needed!
The cake stands are from Homegoods! I love how perfect they go with the beadboard!
I added this quote I saw on Instagram not too long ago and love it!
Hope you all enjoyed my lil project! Have a wonderful weekend!
XOXO!